Search PAN Details – Permanent account number is a 10 alphanumeric character number using for uniq identification of Income tax payers in india. The pan card is using for tax payer as well as a good identity proof in india.  So some time organisation or individual need to verify the details of a person or company. You can know pan name AO Number and address and other details by pan number using incometaxindiaefilling portal.
If you want to know your PAN details, search your PAN Details or forget your PAN Details, you can search PAN details using your PAN Number by following given some steps:
How to Search PAN Details by PAN Number
Step 1. Visit Link: Click Here
Step 2. Type your PAN Number and mobile Number.
Step 3. After submitting, you have received One Time Password (OTP) only 3 successful attempt.
Step 7. If you have successfully enter OTP then after validate your PAN details display on screen:
Name
Indian Citizen Yes or No
Area Code
AO Type
Range Code
AO Number
Jurisdiction
Building Name
Email ID
Status Active or inactive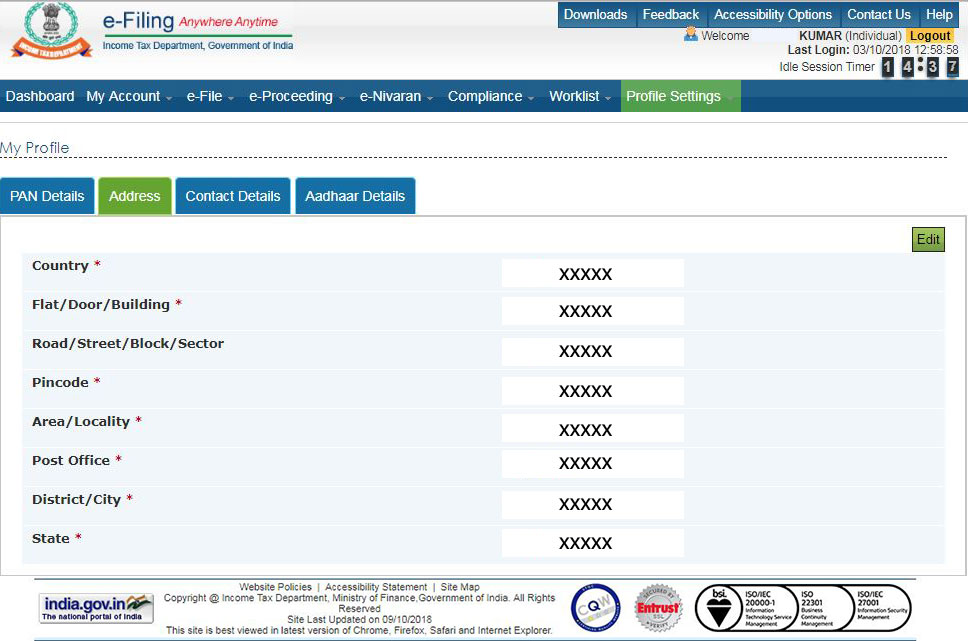 How to apply for pan card online ?
You can apply for pan card from pan49.com website. Pan49.com is a authorized website for processing pan application online.
How to apply for pan card correction or pan information change request ?
You can make any changes in your pan card like name, father name, mother name, address, or you surrender your additional pan number using pan correction / pan changes application form.
How to reapply, renew, Search PAN Details, second copy or lost pan card application  online ?
You can Reprint you pan application if its has been lost, damage .
Importance of PAN Card Details – Search PAN Details
While the PAN card was introduced with the primary objective of identifying an individual from a taxation point of view, it also serves other purposes.
1. Valid Identity and Photo Proof
A PAN card is accepted and produced as a legitimate ID proof across the country for various purposes such as for an application for a passport, ration card, voter ID card, utility connection such as gas and electricity etc.
2. At the place of employment
Employers require the PAN details of their employees for the purpose of taxation. Employers need to deduct necessary taxes such as TDS, Professional Tax etc. They also require the PAN card details to show their payments to employees, in the form of salary income, at the time of filing their Income Tax returns.
3. Dealings with Banks
One of the pre-requisites while opening a Bank Account or to avail any kind of financial services is the individual's PAN Card. This is true irrespective of the type of Bank – Public, Private, Co-operative, etc. In an attempt to eradicate money laundering and black money, banks are required to keep a check on all high-value cash transactions and report to the RBI as the prescribed norms, on a periodic basis.
After the demonetization drive in November 2016, an amendment was made in the Income Tax rules and all banks were asked to procure and link PAN or Form 60 (In cases where PAN was unavailable) to all the existing bank accounts.
The only exception being zero balance saving accounts or Basic Savings Bank Deposit Accounts (BASDA) and the accounts under the recently started financial inclusion program – Pradhan Mantri Jan Dhan Yojana (PMJDY). This activity was to be completed by February 2017.
Also, the government has ensured that individuals resorting to fraudulent practices such as making multiple deposits of amounts less than 50,000 to escape compliance with statutory provisions, will also be tracked and dealt with accordingly.
4. Post Office Deposits
Similar to the FDs with Banks, PAN Card is a mandatory requirement while opening a deposit of Rs. 50,000 or more with the Post Office Department as well.
5. Foreign currency exchange: For foreign travels, in order to get money exchanged for foreign currencies, along with a copy of the visa, tickets, passport, etc, travelers need to provide a copy of the PAN Card as well.
6. Share Trading: PAN details need to be furnished to the brokers along with the Demat and Trading account provider, for the purpose of trading of shares.
7. Mutual Funds and other securities: Similar to share trading, any request to open mutual fund investments or investment in debentures, bonds etc. need to be supported with the PAN details of the investor.
8. Property Transactions: Both the buyer as well as the seller need to provide their PAN details at the time of the registration of the property as well as for finalizing the sales deed. In a case of a property with joint ownership, it is mandatory to quote the PAN details of both the owners. Any transaction related to sale or purchase of an immovable property requires the PAN details when the value of such deal is or exceeds Rs. 5 Lakhs.
9. Credit or Debit Card:
PAN details are a mandatory pre-requisite for the application of Credit as well as Debit Cards. The card applications cannot go ahead without this detail and will get rejected. Such rejections also have a negative bearing on the credit score of an individual as well as can create a problem in the future for application of loan, etc.
10. Loan Applications:
All loan applications such as personal loan, home loan, etc. require the PAN details of the requestor to be provided.
11. Payment Wallets
In this age of demonetization, payment wallets have gained a significant place in the way monetary transactions are done. Various payment wallets such as Paytm, Mobikwik, etc. require this detail to be shared for their KYC purposes, if the user wants to make transactions beyond the specified limit of Rs. 20,000 per month
12. Purchase of Vehicle
For all vehicle transactions (sale or purchase) excluding two- wheelers, which fall under the ambit of registration as per the Act for Motor Vehicles, require the PAN details to be shared.
13. Payment of insurance premium
It has been instructed by the Central Board of Direct Taxes (CBDT) that the policyholder needs to provide his / her PAN details at the time of paying the premium to the insurance companies, for amounts more than Rs. 50,000 in a particular year.
14. Jewelry purchase
Buyers need to furnish their PAN details at the time of making jewelry or bullion purchases for amounts exceeding Rs. 5 Lakhs.
Eligibility for Holding PAN – Search PAN Details
the following are required to have a Permanent Account Number . As per Section 139A (1),
All individuals whose total income exceeds the starting point of the Income Tax slabs. This also individuals whose income is chargeable to tax on behalf of others such as the income of the parents which also includes the earnings of the minor's child, etc.
Charitable trusts required to file returns, as per Section 139(4A)
Individuals running a business/profession wherein the total sale or income is likely to go beyond Rs. 5 Lakhs
Importer/exporter who needs to obtain Import Export code
Anyone who will receive payments post TDS collection
The person who is required to pay excise duties.
Anyone who issues invoices under Rule 57AE
A person who has a responsibility to pay service tax and his/her agent
Persons registered under the Central Sales Tax Act or the general sales tax law of the relevant state or union territory
Any individual who wishes to participate in any financial transactions which mandate furnishing of PAN details:

A person who is not covered in any of the above categories can also apply for a PAN Card voluntarily.
According to Sec 160, a minor, non-resident, court of wards and anyone defined by law as "an idiot or a lunatic", can also apply for a PAN. In such cases, the application has to be made by a Representative Assessee, on the behalf of such applicant.